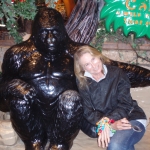 I fell into this by accident, when attachment disorder hit me upside the head.  Just as the latest brain science on how it works and how to heal was flooding in.  So I've been going a bit ape (left), multiplying content here like rabbits — faster than I've been able to index it so you can find what you need. (Click pic for best view.)
*New! How to Hire a Therapist http://attachmentdisorderhealing.com/resources/z-under-construction/
My webmaster finally spanked me (metaphorically speaking, of course) and said "There's too much good info on here, with no way to find it!  Re-index the place so people can find your book, Featured Topics, and News Blogs."  So here's a page to help you find stuff:
Book:  The first 30%  of my psychiatric autobio "Don't Try This Alone" is posted on the New Book page here.  I've got 60% of it written, but all this trauma and brain science news has kept me tied up blogging.  I feel so much better now than I did during the events in the book, events which got me where I am.  But, still, who wants to write about 2012 when all this great news is happening now?  OK, I'll crack down and get it onto Amazon soon.
Resources: New: Healing Tools for Trauma
… and also – Healing with Body Work
… Audios & Videos
… Books & Reviews
… Find a Support Group
… Find an Attachment-based Psychotherapist
… Grief Recovery Handbook
… Key Articles
… Seminars – April-May 2015 and Oct.-Nov. 2014 "Brain Science of Trauma" webinars are here. And more  seminars…
… Special Reports
Featured Topics (find info by topic):
Adult Attachment Disorder, Adult Attachment Interview (AAI)
Attachment-based Psychotherapists Directory and Referrals
Brain Science
Developmental Trauma, Infant Development
Grief Recovery Handbook (GRH) and Method
Healing with Body Work, Rhythmic Regulation
Mammalian Attachment, Limbic Brain, "Fur"
Meditation, Being Present, Radical Acceptance
Music and Attachment, MP3 audios, Sheet Music
Romance, Dating, and Trauma
Support Groups, How to Find
News Blogs: Click here for News Blogs; there are too many to list on this "How To" page, but here are the main themes:
Latest on the Brain
How We Develop
Did I Attach?
50% Suffer Trauma
On Healing: Body Work
Being Present, Now
Watch Out for More Trauma
What is Addiction?

——————————–
If you find the site useful, do remember:  I'm not a PhD studying "those people" with attachment disorder. I'm just a paramecium writing about how it feels to be a paramecium.
Tags: Adult Attachment Disorder, Adult Attachment Interview, Adult Attachment Theory, Bessel van der Kolk, Body Work, brain science, Brain stem, Bruce Perry, Daniel Siegel, Dissociation, Grief Recovery Handbook, Peter Levine, Stephen Porges
————-
Comments are encouraged with the usual exceptions; rants, political speeches, off-color language, etc. are unlikely to post.  Starting 8-22-16, software will limit comments to 1030 characters (2 long paragraphs) a while, until we get new software to take longer comments again.
7,111 total views, 0 views today