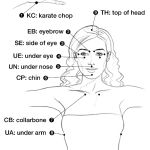 I've used Emotional Freedom Technique (EFT), aka tapping for years, as I wrote in Part 1 on  "what is tapping."
Now for how to tap. "Focus on the negative emotion at hand: a fear or anxiety, a bad memory, an unresolved problem, or anything that's bothering you," says Nick Ortner, author of "The Tapping Solution."
Then, "while maintaining your mental focus on this issue,  use your fingertips to tap 5-7 times each on 9 of the body's meridian points."  (Click on "Where to Tap" diagram above from TheTappingSolution.com)  [FN1]
"Tapping on these meridian points, while concentrating on fully feeling and accepting the negative emotion, will allow you to resolve and displace those learned, habitual reactions this feeling would ordinarily trigger," he writes.
You said it, brother Nick. "Fully feeling and accepting the negative emotion" is an incredibly key point; see below.
But please: if you have severe trauma, do not tap alone!  Do it with a therapist or trained practitioner, or don't tap.  "Your mileage may vary."
Tapping starts with 3 "prep steps" which take 5-10 minutes once we get used to it.  Here we take the time to become fully Present with ourselves, our body, and our emotions.  Actual feelings, and relief of feelings, occurs only "in the Now."  To do it, we've got to be Present in the Now.
1. Identify what's troubling you. It can a specific feeling or situation, or just general anxiety or "I feel lousy."  Try to figure out "what bugs me the most and how do I feel about it now?"  Try to put yesterday and tomorrow out of your mind.  Just ask this "now" question until you feel some sort of answer.
2. Write down the intensity of your feeling on a scale of 0 (doesn't bug me) to 10 (makes me jump out of my skin).  This "Subjective Units of Discomfort Scale" (SUDS) is useful because often we feel so much better after tapping that we simply can not remember how bad it felt beforehand.
3. Create a one-sentence "set-up statement" which says: I'm going to accept myself and practice self-compassion. I'm deciding to fully accept me as I am, the emotions troubling me, even my worst feelings.  Because, as Dr. Tara Brach says, "it's only when we accept ourselves completely exactly how we are, that we become free to change."
Anxiety
Let's take as a sample, the feeling of general anxiety – we've all had it, and when it gets bad, it can cause panic and illness.  1: Think of something that makes you feel anxious.  2. Write down the intensity on a scale of 0 to 10.
3. Here are "set-up statements" about anxiety I've found most useful, from Nick Ortner's e-book 2012 edition: "Your set up statement should acknowledge the problem you want to deal with, then follow it with an unconditional affirmation of yourself as a person," he writes:
–"Even though I feel this anxiety, I deeply and completely accept myself."
–"Even though I'm anxious about [__ situation], I deeply and completely accept myself."
–"Even though I'm feeling anxiety about [__ person] I deeply and completely accept myself."
–"Even though I panic when I think about [ __ ] I deeply and completely accept myself. "
We only need one set-up sentence. Create one or try the samples above.
At the end of my set-up I often add  "and all my traumatized emotions."  I'll say, "Even though I feel anxious and panicky, I deeply and completely accept myself, and all my traumatized emotions."  ( My therapist applauded this. If we accept that our "crazy" trauma is not crazy, but it's to be expected, given the nasty experiences we've had, that really helps heal it.)
Start Tapping: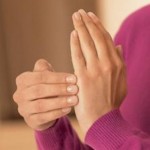 The rest of the tapping should take about 10 minutes more, again, after we get used to it:
A.  Tap the Hand for Set-up and Self-Affirmation:  Start by tapping on the Karate Chop point, the outer edge of the dominant hand on the opposite side from the thumb, using the four fingertips of the other hand.  While tapping, repeat the one-sentence set-up statement three times aloud. (Photo from Patricia Hope, http://www.towards-happiness.com/natural-treatment-for-insomnia.html )
To me, the Karate Chop feels very steadying, and I'm glad this is where we repeat our self-affirmation. When I feel really bad, I might repeat my set-up affirmation while tapping three times on each hand, alternating hands.
B: Tap through all the other Acupressure Points:
–"Use a firm but gentle pressure, as if drumming on the side of your desk or testing a melon for ripeness," says Nick Ortner.
–"You can use all four fingers, or just the first two (index and middle fingers). Four fingers are used on the top of the head, collarbone, under the arm… wider areas.  On sensitive areas, like around the eyes, use just two.
–"Tap with your fingertips, not your fingernails."
I learned to start tapping the top of the head; Nick likes to start at the eyebrow and end at the top of the head.  They call him the Tapping King and he's got a bestselling-book The Tapping Solution.  But I stick with what works for me.  It  doesn't matter as long as we tap most or all the points.
Next, we just flat out say what hurts.   I tap on my head, then my eyebrow, then the side of my eye, going through all the 9 acupressure points.
At each spot, in the anxiety example, I'd say:  "I feel so anxious. I feel so anxious and panicky.  I feel anxious and panicky about living alone (for example)."  Say what you feel, keep it short, authentic, and blunt.
As many tapping youtube videos show, when we tap from one tapping point to the next, what we feel can start to morph.  If we don't feel our feelings, they can stay frozen for decades, but once we start to feel them, emotions are by nature fluid;  they start to release and change. As we feel them, they begin to dissipate. Then the next feeling underneath may bubble up.
Here are Nick's names for the remaining tapping points,  to help read his diagram.   I tap on each of these  points and say several times at each point: "I feel anxious and panicky about living alone."
–Top of Head (TH)  Crown of  head. Use four fingers.
–Eyebrow (EB)  Inner edges of the eyebrows near the bridge of the nose. Use two fingers.
–Side of eye (SE) The hard ridge between the corner of your eye and your temple. Use two fingers. Feel out this area gently; don't poke your eye!
–Under eye (UE) The hard bone under the eye that merges with the cheekbone. Use two fingers, stay in line with the pupil.
–Under nose (UN)  between the bottom of the nose and the upper lip.
–Chin (CH)  centered between the bottom of the lower lip and the chin.
–Collarbone (CB)  Tap just below the hard ridge of your collarbone.
–Underarm (UA) On your side, about four inches beneath the armpit.
That's it for Round 1.  Next: take a deep breath, and check if your SUDS number went down, because you might be finished.
But most of the time, I go through all the tapping points about three rounds.  For example, if after Round 1 you feel roughly the same and still feel bad, that's normal; you'll need a second or third round.  I need three, almost every time. In traumatic fear, I need four rounds or more.
If the number has risen or skyrocketed because we really "got in touch" with the feeling, that's called spiking. *If you get overwhelmed, stop now.  Call a friend to help you calm down, breathe deeply, and drink some water.
I learned over time that spiking is a good result, as horrible as it feels in the moment – because in the next few rounds I can feel that nasty feeling so thoroughly that I pretty much get rid of it.
What very often happens to me is that I'll do Round 1 and then Round 2, but I feel like nothing's changing. It's so boring that I start to feel like a jerk for wasting my time with this nonsense.  But I persevere.
Then sometime in Round 3 I'll get a huge spike, and feel so horrible that I start bawling and must force myself to stay with it.  Then just as suddenly, the whole bad feeling is gone.  It simply disappears, to where I start thinking about my hairdo, or laugh and say "OK, done, what's for breakfast?"
If I'm up at night anxious and I tap to get to sleep, very soon after the spike, my anxiety will evaporate and I'll fall deeply asleep.
———————————
Kathy's blogs expand on her book "DON'T TRY THIS AT HOME: The Silent Epidemic of Attachment Disorder—How I accidentally regressed myself back to infancy and healed it all." Watch for the continuing series each Friday, as she explores her journey of recovery by learning the hard way about Attachment Disorder in adults, adult Attachment Theory, and the Adult Attachment Interview.
Footnotes
FN1  Nick Ortner's website has a free e-book on tapping:  http://www.thetappingsolution.com/free_tapping_ebook.html I'm ever grateful to Nick and Jessica Ortner for popularizing tapping and making it so accessible to us, diagrams and all. But I'm troubled by how their site has grown so commercialized.  To me, any pitch to become rich, thin, famous, etc. feels bad; it says we're not good enough as we are; got to get out there and perform harder and faster.  To me that's a recipe for more cortisol, stress and panic.  I'd rather focus on being a human being, not a human doing (to paraphrase Jon Kabat-Zinn).
5,214 total views, 3 views today