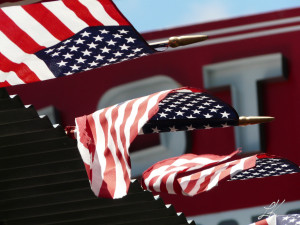 This guest blog by Dr. Laura Kerr, PhD, Stanford University, really struck me.  For Americans as people, and our government, she notes, "unconscious dreams and unresolved traumas influence our defensive reactions to threat, much like the child that suffers chronic traumatization is altered by conditions of abuse and neglect."  Dr. Kerr is a  mental health scholar who writes about trauma, grief and loss — and the social cost of our often not knowing they exist, or how to heal them.
"Dreaming of a Safe America," by Dr. Laura Kerr
The airstrikes against the Islamic State, a decidedly violent and oppressive group, are deeply unsettling, bringing forth memories of 9/ll and the Iraq and Afghanistan Wars, along with fears that America will never extract itself from this region of the world, or be safe from revengeful terrorist groups. At such times, it's natural to become defensive, fearful, and even hopeless.
One of the things that makes America a wonderful place to live is that we feel entitled to freedom and safety and feel others are entitled to freedom and safety too. Yet rarely do airstrikes like the ones on Syria feel like a simple exercise in the protection of human rights. America has too many unresolved traumas, too many unspoken desires, for the public to trust a motive as simple as the preservation of freedom and safety.
In this blog post, I try to understand how unconscious dreams and unresolved traumas influence our defensive reactions to threat, much like the child that suffers chronic traumatization is altered by conditions of abuse and neglect. I believe we are at a time in our nation's history when we must examine the disparity between what we have dreamed of becoming and deal with the reality of what we are: stressed, even traumatized, increasingly fragmented, yet also passionate, resourceful, and capable of honest evaluation. But first we have to let go of our defenses. Even during times of war.
American Dreams
The United States, perhaps like all nations and all people, is caught in unconscious, conflicting drives and denied vulnerabilities. In Dreaming Up America, historical novelist Russell Banks identified three dreams at the heart of America's unconscious conflicts, dreams that originally drew people to America:
"There was El Dorado, the City of Gold that Cortez and Pizarro dreamed of finding. And then there was Ponce de Leon's dream of the Fountain of Youth, where you could start life over again, and the New England Puritan dream of God's Protestant utopian City on a Hill, the New Jerusalem…. We can think of there being three braided strands, or perhaps three mutually reinforcing dreams: one is of a place where a sinner can become virtuous, free from the decadence of the secular cosmopolitanism of Old Europe; another is of a place where a poor man can become wealthy; and a third is of a place where a person can be born again." (2008, pp. 6-7)
The three conflicting impulses of these dreams — renewal, materialism, and spirituality — shape the nation, its institutions, social life, and the American psyche. They determine the myths Americans attempt to live, the fantasies that grab our imaginations, the ideals we hold, and our expectations for the future. These dreams also have a shadow side. They contain the unresolved traumas of past generations, and thus also perpetuate fear, shame, addictions, and disavowed needs. Without healing the shadow side of these dreams, the United States has no other option than to play out its conflicting state of impulses in unhealthy and destructive ways.
These disparate dreams of wealth, rebirth, and redemption have been with the American people since the country's inception, although according to Banks, they became a source of internal tension after the Civil War. The United States emerged from this conflict as a nation state, which implied, at least in principle, the resolution of internal conflicts for the purpose of creating an integrated and interdependent nation. However, as we know all too well, this was not the case.
Following the Civil War, the United States was incapable of true integration. For one thing, the Civil War was particularly gruesome. Over 620,000 people died — far more Americans than in any other US-involved conflict. (About 1,264,000 soldiers have died in the nation's wars.) And although the Civil War ended slavery, it did not end racism or inequality, and thus failed to uphold the ideal of universal, inalienable rights laid out in the Constitution, the doctrine intended to unite us all as equals.
Thus, after the Civil War, there was a false sense of integration. To use psychological parlance, we could say the US created a false self. The creation of a false self is common to trauma survivors. It hides the split off aspects of experience and identity that either the survivor is unaware of, or fears retribution for, if others were to know the traumatized parts and the memories they hold. And Americans have suffered many traumas — including the numerous wars, slavery, oppression, racism, sexism, as well as family violence — and all reveal the failure of democracy to create a country of safe and equal citizens.
When caught in a habitual cycle of denying or dissociating parts of ourselves, event the faintest reminders are susceptible to unconscious projection onto others. When traumatic memories are particularly offensive, and contain overwhelming feelings of shame or helplessness, the need to rid oneself of the offending and unacceptable traits and emotions can lead to a search for a scapegoat, someone or something to contain the overwhelming feelings that otherwise might shatter the fragile persona that keeps them at bay.
And indeed, the United States often functions much like the trauma survivor who projects the wounded parts of itself onto scapegoats rather than risk the uncertainty of facing a traumatized past. Scapegoating happens in relation to other countries and peoples when we demonize them, and in our own country when people are devalued or brutalized due to their ethnic origins, their gender or their sexual orientation, the region of the country they live in, or their lack of resources. And often those who have been victimized later become the ones seeking scapegoats.
For the rest of this post and its invaluable footnotes, CLICK HERE: http://www.laurakkerr.com/2014/09/24/dreaming-safe-america/
——————
Kathy's news blogs expand on the ideas in her book "DON'T TRY THIS AT HOME: The Silent Epidemic of Attachment Disorder—How I accidentally regressed myself back to infancy and healed it all."  Watch for the continuing series each Friday, as Kathy and her guest bloggers write about attachment disorder in adults, trauma, grief and loss, adult attachment theory, and the Adult Attachment Interview.
3,856 total views, 6 views today