Dr. Stephen Porges writes in his groundbreaking "Polyvagal Theory" that mammals like us aren't made for trauma.  We're made primarily to attach to other mammals, which makes us feel safe, secure and good.  When that fails, we're also made to go into a secondary fall-back option of fight/flight; we get aggressive or at least defensive. And it feels bad; we know something's wrong.
But we're not made to be in fight/flight for a long time, so when we're caught in fight/flight and can't get out, mammals are forced back into a third, even more primitive system: reptilian freeze, aka immobilization or dissociation.
"If you go to a pet store and look at the reptiles, you don't see much behavior, because immobilization is the primary defense system for reptiles," says Porges. "But if you look at the small mammals, hamsters and mice, they are running around. They are socializing."
"Some reptiles can shut down and go underwater for several hours and be fine. The shut-down system works well if you are a reptile, because reptiles don't need much oxygen and don't need to support a big brain…
"But this immobilization reaction… is potentially lethal for mammals. If a life threat triggers a biobehavioral response that puts a human into this state, it may be very difficult to reorganize to become 'normal' again,"  he warns. [FN]
I talked about that kind of trauma last blog.  I was suddenly thrust into a medical system that ignored all these mammalian basics.  No matter to whom I turned for communication and  information, nobody saw me, nobody heard my questions, nobody seemed to care what happened. No mammalian response.
So instead of being about to simply sit and be "Present" with the sudden survival threat of a surgical knife coming at me, I had to take all the perfectly normal fight/flight feelings which that causes, and "stuff  it."  Because I had to push myself into hunting and gathering all that info alone. Which threw me into reptilian freeze, just as my body was designed by the Manufacturer to do.  That's trauma.
Mammals Should Be Seen – And Heard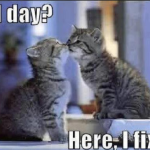 But, good news: I got out of that trauma in under a week, thanks to Dr. Porges' primary state: mammalian attachment.
The first thing that happened was I took a step myself, to get myself "seen" and "heard" – I wrote that blog.  It went out to almost a thousand readers, and the response was terrific.  In particular, lots of nice warm mammals in my Life Team support system started to call and write to me, and wow did that feel good.
"Dearest Kathy," wrote one reader, "I just read your latest blog post, and it sounds rough.  I hope things are calming down and straightening out, and I wish I could be there to help. Do call if you want. – A big, warm, long hug…."
Now this gal and I go way back decades, though she's on the east coast where I haven't seen her since 2009. But we were attached mammals for so long, that in 2011 I woke up one morning dreaming I'd been singing Handel's  Messiah, things went terribly wrong – but suddenly there at the foot of the stage, she appeared – to give me a big hug. "Oh!  It's her!  She knows me. She sees me — the real me, the me who really is."
And about three hours later that same day in 2011, my cell phone rang and…. it was her.  Across 3,000 miles.
"The evolution of the nervous system starts with the un-myelinated vagus nerve, which does immobilization. Reptiles have this oldest defensive system," says Porges.
"With mammals, a newer circuit, a uniquely mammalian vagus which is myelinated, comes online.  So mammals have two vagal circuits, which originate in different areas of the brain stem. The new mammalian vagus is linked in the brain stem to areas that regulates the muscles of the face and head.  Every clinician knows that if they look at people's faces and listen to their voices, which are controlled by muscles of the face and head, they will know the physiological state of their client.
"If we are protected with the newer mammalian vagal circuit, we do fine. When our mammalian social engagement system is working, we feel calm, we hug people, we look at them and we feel good.
"These mammalian part of our  nervous system  enables social interactions to calm our physiology and to support health, growth, and restoration.  When a person is facially expressive, has vocal intonation, has an expressive face and whose eyes are open when we talk to them,"  then we feel seen, heard, and connected.
"Thank you for actually 'seeing' me and knowing me," I wrote back to my gal pal last week after she saw my blog. "It's got everything to do with plain old simple mammalian attachment, in which we  just 'be with' each other, and feel safe.
"And just this morning, it hit me: Oh, Mom again. I was under survival threat as an infant because I was raised in a glass box, which is interpreted by the infant brain stem as a survival threat. Google 'Still Face Experiment'  – it shows how infants go nuts when nobody sees them, nobody hears them – nobody responds.
"So today, survival threat  (surgical knife) will cause me to over-react.  'Of course' says my wonderful attachment-based psychotherapist,  'it's baked into your brain stem.  Give yourself some grace, have your reaction, and then do the reality check.'   So when the doctors exhibit the same reptilian behavior as Mom: nobody hears me, nobody sees me, nobody responds?   'Of course' — bam, it  triggers the whole infant deep neurological experience.
"The minute I put that together, I had a good cry, then started to feel absolutely fantastic.  Because suddenly I knew: it's not about the doctors or the surgery — it's about my mammalian attachment system.  No matter what happens with the surgery or the doctors, it won't matter – as long as I get with mammals.  And what a relief.
"Because now I do have mammalian attachment to my friends, my therapist, and a few other important people – like God – now I do have "Safe People."
"So suddenly now the surgery is no big deal because the doctors will do a great technical job like well-trained reptiles, and back to what really counts, my mammalian support system is taking care of my mammal needs big time.  Which brought me an enormous relief of tension, and feeling of support."
And no sooner did I figure this out, than my email dings –  and it's her again.
——————
Kathy's news blogs expand on her book "DON'T TRY THIS AT HOME: The Silent Epidemic of Attachment Disorder—How I accidentally regressed myself back to infancy and healed it all." Watch for the continuing series each Friday, as she explores her journey of recovery by learning the hard way about Attachment Disorder in adults, adult Attachment Theory, and the Adult Attachment Interview.
Footnotes
FN  Porges, Stephen, PhD, "The Polyvagal Theory for Treating Trauma," 2011, http://stephenporges.com/images/stephen%20porges%20interview%20nicabm.pdf
—"Body, Brain, Behavior: How Polyvagal Theory Expands Our Healing Paradigm," 2013, http://stephenporges.com/images/NICABM%202013.pdf
—"Beyond the Brain: Vagal System Holds the Secret to Treating Trauma," 2013, http://stephenporges.com/images/nicabm2.pdf
—"Polyvagal theory: phylogenetic substrates of a social nervous system," International Journal of Psycho-physiology 42, 2001,  Dept. of Psychiatry, Univ. Illinois Chicago, www.wisebrain.org/Polyvagal_Theory.pdf
7,561 total views, 3 views today