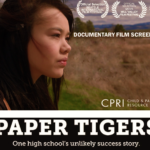 Save the date Oct. 14 in Orange County, CA!  It's the OC's first screening of James Redford's "Paper Tigers," a film on how Lincoln Alternative High heals traumatized students with new relationships.  Such "Trauma-Informed Care" has begun in schools, medical settings, judiciary and social services nationally, with top results. It can help any organization.
Watch the two-minute trailer now: PaperTigersMovie.com
From rough areas, Lincoln High's students were headed for the "School to Prison Pipeline."  Then Principal Jim Sporleder took this Walla Walla WA school run by gangs, with 789 suspensions and 50 expulsions a year, and turned it around.  Suspensions fell 85-90%, expulsions fell 30-50%, and attendance, GPAs, and state exam scores rose. Graduation rates rose five-fold. Students got into college with $30K in scholarships. It was so dramatic that Robert Redford's son James Redford made this film.
On Sept. 19, Mr.  Sporleder and my other friends at ACEsConnection spoke on this work at the White House in Washington. The White House Fact Sheet features ACEsConnection and our 10,000-person organization in its third bullet under "Online Community Support for Educators."
————————————————————
"Paper Tigers" Film Screening, Friday, October 14, 7 pm
Center For Spiritual Living, 1201 Puerta Del Sol, San Clemente CA 92673
– A documentary by James Redford, Director –
– Hundreds of screenings already organized nationally –
Admission free. To ensure seats, click "Register" button here.
—————————————————————
How did Principal Sporleder do it?   "Let's stop asking kids 'What's wrong with you?'   Sporleder told his staff — and start asking 'What happened to you?'  Then, let's be quiet and listen with compassion."
If a student used the "F" bomb, instead of detention they saw the principal. "What bad stuff happened that you're so upset?" Jim would ask. "My Dad left for Iraq, again!" or "Mom's drunk so no breakfast," they'd say. They'd pour out their hearts until Jim reached them emotionally and they felt heard. As they could feel and verbalize emotions, they acted out less.
Leveraging the ACE Study
How did Jim Sporleder learn to do all this?  It began when he found out about the Adverse Childhood Experiences (ACE) Study.  The ACE Study revealed that some 50% of Americans suffer childhood trauma, and that it can flood students' brains with toxic stress to where they can't learn.
He also found a wealth of resources on ACEsConnection.com, the social network site for the ACE Study just cited by the White House this week.
Then Jim, the school staff and the students all studied the ACE Study together. Everyone saw that the students weren't freaks, but instead their behavior was their bodies' natural reaction to horrible experiences over years.  Student self-respect grew.  As Robin Williams told Matt Damon, "It's not your fault:" https://www.youtube.com/watch?v=UYa6gbDcx18
The ACE Study and Trauma-Informed Care show that one caring, dependable adult, a teacher or other mentor, can give a kid the relationship they need to heal. Once adults "got them," the students turned around.
–ACE Study Video by Dr. Vincent Felitti, MD, co-study director: https://www.youtube.com/watch?v=GQwJCWPG478
–Full story on Lincoln High:  https://acestoohigh.com/2012/04/23/lincoln-high-school-in-walla-walla-wa-tries-new-approach-to-school-discipline-expulsions-drop-85
–Trauma-Informed Care  http://www.samhsa.gov/nctic/trauma-interventions
————————
Kathy's blogs explore the journey of recovery from childhood trauma by learning about Adult Attachment Disorder in teens and adults, Adult Attachment Theory, and the Adverse Childhood Experiences (ACE) Study.
—————————
Comments are encouraged, with the usual exceptions; rants, political speeches, off-color language, etc. are unlikely to post.  Starting 8-22-16, software will limit comments to 1030 characters (2 long paragraphs) for a while, until we get new software to take longer comments again.
7,026 total views, 6 views today