Can School Heal Children in Pain? – Guest Blog by "Paper Tigers" Director James Redford, original date June 3 (photo courtesy of Mr. Redford).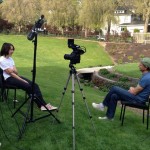 After learning about the overwhelming effects of childhood trauma, I decided to make a film about a school that's adopted a "trauma-informed" lens.
Documentaries are no walk in the park. They take a lot of time and money; they have a way of making a mockery out of your narrative plans…
Why bother? It's a good question. For me, I have one simple bar that all my films must clear: an "oh my God!" moment. If a story does not elicit that reaction from deep within my bones, I don't do it. I count on that sense of awe, concern, wonder, and alarm to carry me through the long haul of making the film…
After three years of hard work and uphill battles, my latest documentary film, Paper Tigers, premiered last week [May 28] at the Seattle International Film Festival. And yet it seems like yesterday that I first encountered the explosive research that linked poor health to childhood trauma.
I didn't know that adverse childhood experiences — like assault, emotional abuse, observing domestic violence — could fundamentally alter a child's body and brain. These kids are at risk for every single major disease, including (but not limited to) cancer, diabetes, high blood pressure, and cardiovascular disease. That risk doesn't include the increased likelihood of "self-soothing behaviors" like smoking, drinking, eating too much food, doing too many drugs, having too much sex.
Put that all together and you have the underpinnings for some of the greatest societal challenges we face. It quickly became clear that social support systems require a deeper understanding of adverse childhood experiences….
The good news is that there are schools, clinics, courts, and communities that are starting to adopt a "trauma-informed" lens.
———————————
Kathy's blogs and Guest Blogs explore the journey of recovery from childhood trauma by learning about Adult Attachment Disorder in teens and adults, Adult Attachment Theory, and the Adverse Childhood Experiences (ACE) Study.
2,271 total views, 1 views today