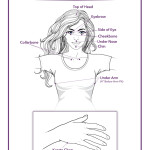 I use Tapping, TRE® and EMDR  at home, short term, to calm myself.  Try them (links below), but don't isolate.  For real healing we need a good attachment-based psychotherapist and a support group.  I also had a Grief Recovery partner.  (Tapping diagram by AngelicJournies.com. left)  Research these to see what's right for you and ask your therapist:
Neurofeedback Works – Van der Kolk:  Dr. Bessel van der Kolk, MD, posted a webinar on neurofeedback 8-9-16 which changes the map. He saw how drawings by traumatized kids changed and developed after 40 weeks' treatment and said, "I was blown away. Nothing I know of can do that."
Neurofeedback: Healing the Fear-Driven Brain -Neurofeedback pioneer Sebern Fisher says it cured her own developmental infant trauma.
Find a Neurofeedback Practitioner Online:
–EEG Spectrum: http://www.esiaffiliatesforum.com/providers
–EEG Information Directory: http://directory.eeginfo.com/
Tapping, aka Emotional Freedom Technique (EFT) – Incredibly helpful; takes a few tries to learn.  Don't tap alone if you have extreme trauma.  Click the start of this paragraph for my May 2015 blogs on tapping.
Somatic Experiencing (body work) by Dr. Peter A. Levine, "Healing Trauma: A Pioneering Program for Restoring the Wisdom of Your Body."  I got this for its audio CD and took it to my therapist to work under supervision. Levine discovered 35 years ago that wild animals recover from trauma by tremoring spasms of their body core and flailing of limbs, to complete the fight-flight they were in before they froze. Levine shows a National Geographic video of a polar bear shot with a tranquilizer dart. As the bear wakes, its body trembles intensely this way and its legs thrash, replicating running and biting motions it was making when shot. Finally it undergoes deep gasping; see minute 10-12 of video: https://www.youtube.com/watch?v=nmJDkzDMllc   This discharges tons of stress chemicals which otherwise get frozen in the body.
Our human thinking brain usually refuses to do this "reset." It's too fearful of the fierce shaking and natural aggression.  That's why we have trauma and wild animals don't: old fight-flight stress chemicals stay frozen in our bodies. Levine created "Somatic Experiencing" body work to let us experience the reset motions we need, especially decades after trauma. My trauma therapist and I got a shock when I accessed this discharge shaking doing Levine's CD exercises. My body went wild and released a ton of childhood trauma.
I dubbed it the "polar bear dance." Really intense — don't do it alone!  Find a practitioner: http://sepractitioner.membergrove.com/index.php
Levine saw animals do this in Africa and was told by game wardens that they must do it after being chased or captured, and if they don't, they die.  Tremor response is used in shamanic cultures, but in most human cultures the thinking brain inhibits us and we brace up against the discharge, fearful of all that aggression it exhibits.  So after traumatic events, most humans remain traumatized and frozen, often for life. That's why one practitioner says in his video below: "only two kinds of mammals have forgotten how do to this life-saving tremoring: zoo animals and humans."

EMDR – Eye Motion Desensitization and Reprocessing – Long-term use requires an EMDR therapist.  New research shows EMDR may also help developmental trauma; check links in blog above. Find an EMDR Practitioner: http://www.emdria.org/search/custom.asp?id=2337
Trauma Release Exercises (TRE®)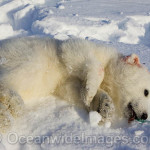 Dr. David Berceli developed TRE® based on this wild animal tremoring, to help large groups of traumatized people in refugee camps, earthquakes, poverty, terrorism, war zones, any mass trauma.  He discovered that the psoas muscle is key to body core tremoring. TRE® is a set of seven purely muscular exercises which induce "polar bear" tremors on a bodily basis, by exhausting the leg and other muscles that normally inhibit the psoas from tremoring. And then, if we've got trauma  (who doesn't?), tremor it will. Berceli describes the tremor reflex as a vital survival instinct: https://www.youtube.com/watch?v=a0NooNBBro0
Peter Levine's friend trauma expert Robert Scaer MD on TRE®: https://livingubuntu.wordpress.com/2013/06/11/dr-robert-scaer-thoughts-on-tension-trauma-releasing-exercises.  On "how to," see Matt Schwenteck: https://www.youtube.com/watch?v=Y3x_ITdzKbI  Doing these exercises for three weeks, I feel fantastic. Matt says "only two kinds of mammals have forgotten how do to this life-saving tremoring: zoo animals and humans." Haven't we all felt we're in a zoo at times in our traumatized society?

Yoga: Here is Dr. van der Kolk's 2009 interview on Yoga & PTSD.  Yoga means "union with God," and has many forms including sitting to meditate.  Hatha Yoga is the form we know as yoga poses.  It teaches us how to inhabit our bodies here, right now; that's why it's been used for thousands of years.
How to Meditate–Really! Dr. Tara Brach, "Basic Elements of Meditation Practice," Pt 1 (2/11/2015): "The first class examines our attitude towards practice and gives guidance on posture, establishing an anchor for attention, and learning to concentrate and collect the mind – 'coming back.' / "  [https://www.youtube.com/watch?v=IVK1d9oz5g4&feature=autoshare]      "Basic Elements of Meditation Practice," Pt 2 (2/18/2015) "The second class focuses on the practice of mindfulness – 'being here,' and the component qualities of clear recognition and an allowing non-judgmental presence." https://www.youtube.com/watch?v=pBcTat6UZUU&feature=autoshare
Holosync:  Meditation with "Audio EMDR" enhancement.  I made up the term "Audio EMDR;" this commercial audio tape for meditation creates an audio "beat" back and forth from ear to ear, stimulating both sides of the brain to better communicate.  Sorry about all the hype on their website https://www.centerpointe.com/v2/   But in fact,  if you find the "meat" of what Bill Harris discovered, it's good stuff.  He's distilled a few millennia of yogic meditative wisdom into his blogs and found a way to use audio technology to help us reach that goal.  I've used it for two years and it works well to calm a frightened brain and create a deeper meditative state.
Qi Gong Traditional Exercise:  Authorities like Tara Brach put this at the top of their list; I've meant to try it, but haven't yet.  Then the chief trauma nurse at my hospital told me Qi Gong is so effective for surgery recovery that they hold free weekly classes for patients.  I enjoyed practicing with Matthew Cohen's YouTube sample above, so I bought his DVD "Qi Gong: Fire & Water."  But then I heard about TRE… so Qi Gong will have to wait a bit more while I see how TRE works.
=====================
Tags: Fight-flight, Bessel van der Kolk, Emotional Freedom Technique, Adult Attachment Disorder, Meditation, Tapping, EMDR, EmWave, Developmental Trauma, Holosync,Yoga, Qi Gong, Brain Stem, Neurofeedback, Tara Brach, Grief Recovery Handbook, Trauma Release Exercise (TRE®)
————-
Comments are encouraged with the usual exceptions; rants, political speeches, off-color language, etc. are unlikely to post.  Starting 8-22-16, software will limit comments to 1030 characters (2 long paragraphs) a while, until we get new software to take longer comments again.
15,075 total views, 0 views today