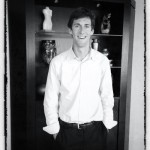 I'm excited to have just done my first interview on attachment trauma with therapist Jeffrey M. Friedman, LCSW of Aventura, Florida (north of Miami).  Jeffrey (left) interviewed me  November 6  for his new "Trauma-Informed Podcast," a series on the prevalence of trauma – so we can stop passing it on from generation to generation. Click here to listen: https://soundcloud.com/east-coast-trauma-project/kathy-new-edits?utm_source=soundcloud&utm_campaign=share&utm_medium=facebook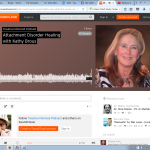 The interview summarizes my work: my trauma history, what I've done to heal with good therapy, and my sorry adventures into what does not work, such as sub-par therapy. We noted the prevalence of child trauma, how it's likely affecting a high percent of government and corporate leaders, and the need to educate and help them. Here are interview excerpts:
What is a quote that inspires you that is related to trauma?
"Too many Americans are spurred to achieve, rather than to attach," says A General Theory of Love; that's at the core of  our society's illness.  We're rushed to compete and get the grade from age 5 or even Baby Einstein age, but there's little talk of how to learn to attach compassionately to other human beings.  But we are mammals, and we literally need attachment to other mammals, physiologically as well as emotionally, just to live. The book, which is by three psychiatrist MDs, demonstrates that unless we reverse this priority, our society can only get sicker.
Where are you from and what type of work are you doing?
I'm from the New York City area, then lived 20 years in the Washington DC area. Now I live in Orange County, Southern California.  I run a website with resources on attachment disorder, AttachmentDisorderHealing.com , and I'm writing a book about how I only discovered my severe attachment trauma after I hit age 50, and how I'm healing.
What is your story of trauma and recovery?
I was  a high-performer who'd barely even heard of trauma. Suddenly I was divorced from a 27-year marriage, bankrupt, and homeless. "I married a bad man, now I'll find a good man," I thought. But I only found more abusive men, and it hit me: the common denominator is me!  Something's wrong with me. Then both my parents died in 2008, but when my Dad died, I couldn't cry. "Wow, I'm really sick," I said, and took myself to therapy.  But I found 3 poor therapists who made me sicker, almost to the point of suicide.  So in 2009 I quit therapy.  What does not work is bad therapy.
Then I got something which does work, the Grief Recovery Handbook, which instructs us how to read letters to a Grief Partner about what's hurting us emotionally. I wanted to heal from my marriage so I could date, so I read letters about my 27-year marriage to my partners for two years. But I didn't feel better; I only found more pain. Reading about my marriage regressed me back to about when I met my ex at 18, but still more pain. Then I read letters about my Dad that regressed me back to age 5.
I removed 40 years of denial like rocks off my soul by releasing the anger and sorrow.  But I didn't have anything under the denial; the further back I went, I just found more pain. Then I read letters to my Mom that regressed me back to infancy.  It's all on AttachmentDisorderHealing on the New Book tab, in my Preface: "The Silent Epidemic."
 What have you done that helped with trauma and what did not work?
I discovered I was maybe 2 weeks old inside. It was so terrifying that this time I did a huge amount of research, found a really good attachment-based psychotherapist and went back to therapy in 2011. Thus my book title: "Don't Try This at Home."  Don't go it alone. What works is:  1. Do get a qualified attachment-based therapist but you must do serious research to find a good one.  2. The Grief Recovery Handbook works to get rid of denial,  but with severe infant trauma, don't do it unsupervised! That was my error.   3. Then what actually healed my trauma was Body Work; Dr. Peter A. Levine's Somatic Experiencing method helped me enormously. For Body Work, go to AttachmentDisorderHealing; fifth tab from left Featured Topics.  Subtab item #4 is Grief Handbook, then subtab item #5 is Healing: Body Work, with links to videos and books.
What advice would you give to those dealing with their own trauma?
I can only tell you what I learned: Don't, don't, don't try this at home; I've put my last nickel into a good attachment-based psychotherapist. Second, later I discovered the Adult Attachment Interview (AAI) and I wish I'd had that at the outset, to find out scientifically how bad and what type my trauma is.  On AttachmentDisorderHealing see the 4th tab Blogs for my blog on the AAI.   Third, I worked the Grief Recovery Handbook (GRH) with a partner but I wish I'd kept a therapist thoroughly informed, it was dangerous not to. GRH can get rid of denial barriers so we can benefit from the next deeper steps. Fourth and most important is: Body Work.
Not reading books about Body Work – doing body work.  Reading a book about singing is different from physically singing; reading a book about sex is, well, you know…. We need to do Body Work, not hide in books.
But remember: Body Work won't get through to us unless we do the other  steps first, especially if we have 20 or 40 years of denial to bust through.
Why can't some Moms help their babies calm down?
Sadly, because Mom's mom didn't show her how, and grandma's mom didn't show her how; in my family I've traced it back to the 1800s and that happens a lot: inter-generational trauma.  That's why I'm not satisfied with programs for child trauma alone.  We need those but we need more.
Fifty percent of parents out there themselves experienced some degree of childhood trauma, as the ACE Study shows.  So it's baked into their brain cells to pass it on and traumatize their children, mildly or wildly.  Unless we have mass-based trauma healing programs for at least child-bearing aged adults, we can't stop the cycle.
You can't just hand a young couple a book and tell them carry the baby in front.  If they're deeply wounded, they don't have the biological capacity to attune to another human being, and they need to learn that, which means serious psychological work.  Otherwise they're going to hurt babies and others until they get real emotional  healing.
More excerpts next time…
——————
Kathy's news blogs expand on her book "DON'T TRY THIS AT HOME: The Silent Epidemic of Attachment Disorder—How I accidentally regressed myself back to infancy and healed it all." Watch for the continuing series each Friday, as she explores her journey of recovery by learning the hard way about Attachment Disorder in adults, adult Attachment Theory, and the Adult Attachment Interview.
9,937 total views, 11 views today