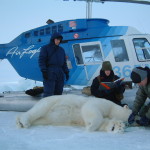 "Read Me" first: Here's why healing can not be done just by "cognitive" thought.  Instead, healing is a physical and emotional process.  Click here to read before you click the photo: Bruce Perry: Rhythm Regulates the Brain. (Photo: US Fish and Wildlife Service)
In trauma,  "first the stress chemicals shut down their frontal cortex (thinking brain)," say Perry, "next the emotional brain (limbic brain) shuts down… people seem threatening; they don't get reward from emotional or relational interaction… The only part of the brain left functioning is the most primitive: the brain stem and… cerebellum. If you want a person to use relational reward, or cortical thought, first those lowest parts of the brain have got to be regulated," he concludes.  "We must regulate people, before we can possibly persuade them with a cognitive argument or compel them with an emotional affect.
"The only way to move from these super-high anxiety states, to calmer more cognitive states, is rhythm," he says. "Patterned, repetitive rhythmic activity: walking, running, dancing, singing, repetitive meditative breathing – you use brain stem-related somato-sensory networks."
In "The Body Keeps the Score," Bessel van der Kolk, MD emphasizes this.  We need 100% acceptance of our self, especially our body, exactly as we are, he says: no guilt, no condemnation. Only by accepting ourselves as we are, do we become free to change. We must respect our body for putting us into trauma freeze; it was the only way to defend us, as Stephen Porges says.
Dr. van der Kolk's "Do List" requires trained specialists and hard work:
—Neurofeedback done by trained specialists: blog here.
–EMDR (Eye Movement Desensitization and Reprocessing): blog here.
—Yoga teaches us how to inhabit our bodies here & now; that's why it's been used thousands of years. Van der Kolk's 2009 interview on Yoga & PTSD
–"Finding Your Voice;" he uses theater, singing, and similar.
What I Did to Heal
I didn't know about Perry or van der Kolk when I did my healing; I stumbled into two totally different action programs. Neither would have worked without the other, and only in the order in which I  accidentally did them:
1. "The Grief Recovery Handbook," by John James and Russell Friedman. Click here for intro to book and how I used it.  With trauma,  following this book's directions properly is a big time investment;  took me 3 years.
I should have done it with a therapist. I didn't know it then, but turns out I have developmental trauma "since the sperm hit the egg."  For me it was dangerous to do the Grief Handbook as thoroughly as I did (very thoroughly),  by "do-it-myself."  It peeled off layers of my personality until I got shoved back into infancy. Thus my book's title, "Don't Try This Alone;" scary.
NB: I'm not giving advice, just telling my story. "Your mileage may vary."  In the end I lucked out: the book's process unfroze my dissociated defenses and opened up my heart for Step 2:
2. "Healing Trauma: A Pioneering Program for Restoring the Wisdom of Your Body," by Dr. Peter A. Levine,  Sounds True, Inc., Boulder CO, 2005.  I really needed the edition with the audio CD in the back.  To me, this was the "mother of all body work."
Even after I found a wonderful attachment-based therapist, I was frustrated with "talk therapy."  First I heard Dr. Dan Siegel (and others) say that our thinking, talking brain doesn't even work until we're 2 or 3. Then I heard about Pat Ogden and Peter Levine's body work.
"If I had major trauma in utero, then weeks of  infant incubation, what's the point of talking to my thinking brain? I didn't have one!" I told my therapist. "I need body work!"  Levine calls it "Somatic Experiencing."
My doc empathized, but he'd never heard of it.  I got Levine's older book "Healing Trauma" because it has a CD with Levine's voice exercises. I brought the CD to my therapist and did the exercises in his office; with infant trauma, "Don't Try This Alone."
Levine discovered 30+ years ago that mammals in the wild don't suffer trauma because if they survive life threats, their bodies instinctively reset via intense shaking and trembling.  This simulates the running or other fight-flight they were doing when, say, a predator caught them. That discharges volumes of stress chemicals which otherwise get frozen in the body.  Levine shows this using a video of a polar bear shot with a tranquilizer dart.
As the bear comes to, its body shakes intensely this way, so I call it the "polar bear dance." Here's a full 27-minute video by Dr. Levine, "Nature's Lessons…"  The National Geographic polar bear video is at about minute 10: https://www.youtube.com/watch?v=nmJDkzDMllc
Our self-important human thinking brain usually overrides this "reset" function, so we don't do the reset "dance."  Result: prolonged trauma when the stress gets frozen in our body.  Body work exercises let us experience whatever reset motions our bodies find to work for us.
My therapist and I got a shock when I managed to access this discharge; the healing was enormous.  My doc also got a new  education on body work; for a few months I wasn't sure who should be paying whom.  For me, Somatic Experiencing did work, big time and explosively.
But please note: if I hadn't first carefully exercised the Grief Recovery Handbook to unfreeze my emotions, I may have been so frozen, so unable to feel my feelings, that no amount of Levine, Pat Ogden, Bessel van der Kolk, or other body work might have helped.  We'll never know.
Dr. Levine will tell you (as he told me) that his more recent book "In An Unspoken Voice" is better.  This and more are on Levine's Somatic Experiencing site (as in "psycho-somatic," mind-body).
Yes, "Unspoken Voice" is a fantastic book.  But I hope you read at least "Healing Trauma," or hopefully both, before you start his CD.  Or Pat Ogden's approach may suit you.  Either way:
Remember: reading about singing is different from getting up to sing; reading about sex is different from… you know.
Serious trauma healing involves full-body reactions which are just as powerful. So read something by Pat Ogden or Peter Levine, take a break, and get ready for a physical experience when you do the exercises.  It's just not the same as sitting around with a book.
If you have infant trauma and don't have a good attachment therapist, start looking first. Click here on how to find a serious therapist, not a dud.
If you live in the middle of nowhere, or therapists in your area are all bad, Levine's book says you might try his CD exercises with a caring, compassionate friend.  I got mileage that way.  I started his first CD exercise with a great friend, but we learned it was too explosive to do-it-ourselves.
If you go that route, be sure your friend is a real friend, someone you can trust to "be there" for you.  Your body may have reactions which shock you both, and your partner must be able to simply sit and "be with" you, with no judgement.  If your body doesn't feel safe with them, it simply won't do anything, and you'll still have the trauma locked inside you.
Tags: Adult Attachment Disorder, Adult Attachment Theory, Body Work, Brain Science, Brain Stem, Developmental Trauma, Fight-flight, Bessel van der Kolk,  EMDR,  Limbic Brain, Grief Recovery Handbook, Peter Levine, Pat Ogden, Somatic Experiencing
————-
Comments are encouraged with the usual exceptions; rants, political speeches, off-color language, etc. are unlikely to post.  Starting 8-22-16, software will limit comments to 1030 characters (2 long paragraphs) a while, until we get new software to take longer comments again.
12,672 total views, 0 views today