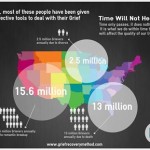 In Part 1, I summarized the Grief Recovery Handbook (GRH) instructions for making a lifetime Loss History Graph; then figuring out which personal relationships dealt us the most of these losses; and then how to  write a separate "Grief Recovery Completion Letter" to each of those persons. ("Millions lack tools for Grief," by the GRH website GriefRecoveryMethod.com)

Complicated? Overwhelming?  Sure.  But wait – there's more!
We also need a Grief Partner to join us in doing all this homework. They must meet with us weekly so we can read our homework to each other; and then later read our Grief Letters to each other.  This goes on for as many weeks, or months, until we felt we've been "seen and heard" enough by another real live human being, to somehow deal with the pain.
"This is why I tell people that God put tear ducts in our eyes," I read two years later in a book by Dr. John Townsend.  "Grief is a relational experience, and your pain has to be seen eye to eye with another person. Someone should be looking at us when we are crying, and we should be looking at him or her. Then we know that we are not alone, and that our tears are seen and heard."
My pal Steve and I both saw instantly that a partner was key; so we hated to start all that homework without getting leads on partners. What if we got too far ahead, with no one working with us?  Now the real "fun" began.
We soon learned that finding a Grief Partner was only slightly less tough than finding a marriage partner — or a unicorn.  "Unicorn hunt" became our grim buzzword. We couldn't work with each other; mourning some details with the opposite sex was too embarrassing. We needed a gal for me and a guy for him.
I went to the local hospice and community groups looking for others in mourning who also needed relief, while Steve asked around at the office and in choir. But it soon became clear that people didn't like to admit to feelings like this, or if they did, were disposed (as society demands) to minimize losses and "put on a Happy Face."  Last hidey hole: they were "just too busy."
After two months' search, at the end of June 2009 I spoke to my local hospice director Greg about my difficulties finding a partner.  I was too embarrassed to discuss my Mom's death due to my horrid conflict with her.  The GRH calls this the "loss of a less-than-loved-one."
"With all these people crying about how they miss their beloved parent, I'm afraid to upset them by discussing my nasty feelings about mine," I said. "I don't fit in anywhere, not even here." "You are not a freak," he replied. "Just because you have complex grief does not mean you're an imposition on other grievers."
Finally I asked Greg, as a professional, to sit and hear me read my Loss History Graph.
The Loss History Graph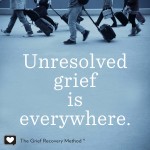 On July 3, I took a room at the beach for the summer of 2009 and had at my first assignment, my Loss History Graph. This opener is not about any one person in our lives, but rather a list of all the major losses we've ever felt. I didn't know it, but I fled to the ocean for a reason; this was going to be 'way too much to take without some sort of natural beauty for comfort. (Another graphic from GriefRecoveryMethod.com)
The exercise blew me away; what I saw was that I'd had an entire life of loss.  My emotional pain and losses went back as far as conscious thought — and just kept coming. The graph was assigned to fit on one page, but I needed two and that would hold only my worst losses in my tiniest scrawls.
My first memory was swallowing a penny circa age 4; I've related that and other frightening experiences with Mom at age 4,5 and 6 in Chapter 3. At 5 my best friend Helen from next door fell off our swing, broke her arm, and was never allowed in our yard again; I was crushed. At 9, I cracked a lamp and was told I'd destroyed a priceless heirloom. During the Cuban Missile Crisis, cowering under the schools desks I felt somehow way more terrified than other kids and completely alone in the agony.
Then came the JFK assassination which terrified me to the point that for no reason anyone could grasp, I began crying uncontrollably and went on sobbing in my room for weeks.  Finally Dad came in and said, "That's enough now, cut it out."  Mom and he were displeased when I cried and that was the signal to be quiet.
Other than that Dad didn't appear on the graph. I wrote in the margin "Never home; never told the truth that Mom was crazy, not me; never stood up for me."
My high school boyfriend Alan left me at 17 saying I was too crazy (now we know he was right). At 18 my first college boyfriend Jim got so depressed when his brother committed a murder, that Jim broke up with me. Being dumped by Jim was my first major prolonged romantic crash; I was completely crushed. I cried and hid in my dorm for a year. No one, led by me, could figure out why my crash was so big; the rejection felt like the earth had fallen out from under my feet. I didn't actually recover from it for many years; I just kept moving.
At 19 I met my college beau Larry; then I fled to Japan at 21, ended up in medical school in Manila, returned home at 25 and was excommunicated from my family when I quit medicine.  The loss of no longer being able to see my sister alone was a mind-boggling amount of agony.
Then I married Larry and had 27 years of loss, starting with an awful abortion in 1982 when he refused to have children. There was no room on the first graph for all the marriage losses; he'd get his own personal Larry Loss Graph and Larry Grief Letter later. Next we lost our international business due to Sept. 11, 2001.
When I finally left our home back east in 2006 and headed to California, I had to add the loss of my house and home, all my friends, my 25-year singing career, my beloved pianist (truly one of a kind), and all my finances in bankruptcy. Next came the losses I took in two nasty rebound affairs.
My jaw dropped as loss after loss spilled out and the large sheets of paper became entirely covered in ever more tiny black scrawls of more and more bad memories until there was almost no white space. Gosh, I thought I'd had such a happy life with all that glorious music and global business travel!
"My heart's like a car which was totaled approximately at birth, and never got any gas or oil, but I just kept driving," I wrote. "I've driven in the Grand Prix to the moon and back a few times — and now I open the hood, and my engine crumbles onto the asphalt in a pile of rust."  In the Loss Graph margin I scrawled: "Unwanted pregnancy would accept all of this to gain any self-validation as in 'Yes You're OK to have been Born.'  Need to prove you had a right to exist, contrary to the message you got."
I did warn you that using the GRH was a cataclysmic life-changing process for me.  Such things are a lot of work. Click here for the rest of the story: http://attachmentdisorderhealing.com/featured-topics/grief-recovery/
——————
Kathy's news blogs expand on her book "DON'T TRY THIS AT HOME: The Silent Epidemic of Attachment Disorder—How I accidentally regressed myself back to infancy and healed it all." Watch for the continuing series each Friday, as she explores her journey of recovery by learning the hard way about Attachment Disorder in adults, adult Attachment Theory, and the Adult Attachment Interview.
Footnotes
FN1  James, John W.; Friedman, Russell, "Moving On: Dump your relationship baggage and make room for the love of your life," M. Evans (Rowman & Littlefield), Lanham, MD, 2006. This is also a terrific book, if you've grieved your already huge losses (I hadn't) and are ready to move on (I wasn't).
FN2  James, John W.; Friedman, Russell, "The Grief Recovery Handbook," Harper Collins, New York, 2009 (orginal 1998)
FN3  James, John W.; Friedman, Russell, "Pay Me Now or Pay Me Later,"  www.grief-recovery.com/Articles/Pay_Me_Now.htm, The Grief Recovery Institute, 2002
FN4  Townsend, John, PhD; Cloud, Henry PhD, "How People Grow," Zondervan, Grand Rapids, MI, 2001
6,096 total views, 2 views today